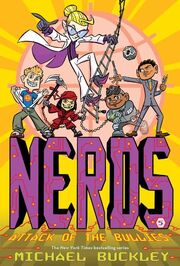 Book Summary: The grand finale to the New York Times bestselling series, Attack of the BULLIES stars Ruby Peet, aka Agent Pufferfish, the team captain with super nanobyte-enhanced allergies. Pufferfish leads the team in their latest case: the kidnapping of the president's daughter. But the NERDS discover she hasn't been kidnapped—she's been recruited. Their former librarian, Ms. Holiday, has started a rival organization called BULLIES, who each have their own nanobyte-enhanced upgrades. The BULLIES' plan: go back in time to make sure NERDS never existed! When Ruby's teammates begin to vanish one by one, she enlists Agent Brand and Heathcliff Hodges to go back to the 1970s and help the original nerdy secret agents make sure that the future is not erased from existence! Attack of the BULLIES promises action, humor, and a dramatic conclusion to the series!
Release Date
Edit
September 9, 2013
Characters
Edit
Miss Information/Ms. Holiday, Agent Brand, Ruby Peet/Pufferfish, the Peet family, Duncan Dewey/Gluestick, Heathcliff Hodges, Heathcliff's parents, Matilda Choi/Wheezer, Jackson Jones/Braceface, Julio Escala/Flich, Funk, Tessa Lipton, Thor, Snot Rocket, Loudmouth, the lunch lady/ spy/principal, dumb vinci/antagonist/ the lunch lady, the president,
Ad blocker interference detected!
Wikia is a free-to-use site that makes money from advertising. We have a modified experience for viewers using ad blockers

Wikia is not accessible if you've made further modifications. Remove the custom ad blocker rule(s) and the page will load as expected.